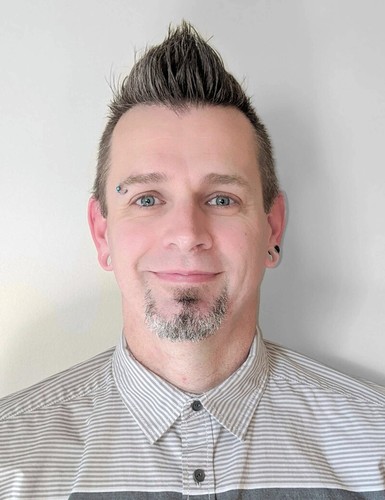 Nature Lover. Sports Nut. Body Whisperer.
The bat is a symbol in two ways: it is a hybrid sort of creature as the only mammal that can soar like a bird, and its heightened night senses allow it to be alert in the darkness.
This is a lot like the newest member of the Revive team, Robin. Robin, in this case, IS the batman. Like the bat, he is a hybrid creature too. He is both a guy who is a sports nature nut who loves to ride his Brodie mountain bikes with his family, hiking through woods with backpacks and sunshine, and he is a sensitive seeker of healing energies using his knowledge of the human body and how it works to help people feel better.
Robin has been practicing as a Registered Massage Therapist since 2004. Out of this experience and his love for learning about the body, his natural curiosity led him to the world of energy healing. His search has brought him to learn and incorporate many different modalities into his practice and work including: Craniosacral Therapy, Unwinding Acupuncture Meridians, Reiki and several other intuitive courses. If there is one thing that his training illustrates, it is his innate desire to dive deeper and understand more.
This is clearly reflected in his practice. Throughout his journey, Robin has felt that bodywork is an art form. Every person is wound up differently so his treatments are based on sensitive alertness to the individual need for healing and recovery in that moment. This can take the shape of a treatment that can be very specific or general, with a touch that ranges from very light to deep depending on the client's need; the body decides how the dance will go.
Recently moving from his home town of Bonnyville with his wife and kids, he has had to use his intuition and senses moving to a new place, working in a new clinic, and uprooting from his familiar home all during a global pandemic! Revive loves that sort of bravery and the desire to fly (or careen over a cliff on a mountain bike having faith he will stick the landing.)
Robin's Hours
Monday: 9:00 AM - 2:30 PM
Tuesday: 11:45 AM - 8:00 PM
Wednesday:

1:00 PM - 8:00 PM
Thursday:

1:00 PM - 8:00 PM
Friday:

9:00 AM - 4:00 PM
Saturday:

(1 per month)

8:00AM - 1:00PM - Dec 16, Jan 6